Planting Against a North Facing Fence or Wall
Posted on
We've got a small courtyard type area that should be perfect for putting a little table & chair set in and sit chilling out with a sneaky glass of wine. But at the minute it's not particularly inviting - two bare walls, an empty fence, bags of builders rubble and a couple of dead pots. It's only a small area, approx. 3m by 5m and there is a narrow bed running along the front of the fence, but nothing has been grown in there for the last five years apart from weeds. The courtyard as a whole is nice and bright, facing South & East, however, the fence with the adjacent bed is North facing so a bit more shady.

As a first stage for improving this area, I've started planting up the bed in front of the fence. As it's a small area, every plant has to justify its presence there and also has to meet certain criteria:

- As the fence is North facing, I need to take care that the plants going in will thrive or at least tolerate shade.
- The area is also viewed from a window from the house, so I want to make sure there is something to look at all year round, so making sure there is some Winter colour.
- The plants have to be suitable for a small space, so either don't grow particularly big or are happy to be pruned regularly.

To get me started, I've chosen five larger shrubs to create the structure for the bed:


1 x Pyracantha "Golden Charmer". You may also know Pyracantha as Firethorn. Being a climber, it is ideal for screening of part of the fence and is perfectly happy in a North facing situation. This variety should be festooned with white flowers in Spring followed by masses of orange berries in late Autumn & Winter. It's also happy to be pruned back as hard as you like if it starts to outgrow the space.

1 x Jasminium Nudiflorum - (aka Winter flowering Jasmine). Again, another climber to helps screen the fence which is very happy in shade. The particular feature of this plant is that it brightens up any garden in Winter as it develops attractive yellow flowers and can also be pruned back if it outgrows the space.

3 x Cornus Alba Sibirica - a variety of red stemmed dog wood. If left to it's own devices, Cornus would far outgrow the space available, however, it too is perfectly happy to be cut back hard...and in fact the best feature of this plant positively thrives from being cut back. The main feature of this plant is the red bark on the stems which are visible in Winter once the leaves have dropped. However, to maintain the red stems and encourage bright new growth, the plant benefits from annual cutting back to ground level, so it will never outgrow the space.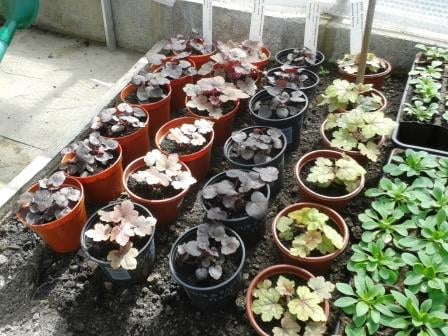 With these five shrubs in and creating the structure for the bed, as the next task I've started to infill with lower growing perennials. For now I've put in a few Helleborus Niger to give some late Winter / early Spring flowers and Hostas of various varieties. In addition I've set off a few plug plants of Bergenia Codifolia for evergreen leaves and Spring flowering, along with various Heucheras to give coloured foliage throughout the year. These are too small to plant now but are growing well and may be suitable for planting later in the season.

I'll keep you updated on how things in the bed progress.