The Beauty of Plug Plants
Posted on
Being a canny Yorkshireman (albeit emigrated to North Wales), I'm keen to keep an eye on the pennies. So, I'm always loathed to spend full, garden centre prices on plants unless I really have to, or I'm looking for something very special. So, previously I've gone down the route of growing many plants from seed. It's very cheap and you can get loads of plants for your money. The down side is that it is often time consuming to do, especially when it comes to pricking out dozens or hundreds of seeds and potting them on.

For this reason, this year I have given plug plants a try. If you're not familiar with plug plants, they are very young plants, usually only a few weeks old, which arrive as very small plants in "plug" form. They typically arrive in plastic modules like those shown in the photo, holding five or six plants. As the plants are so young, they are typically very small - maybe 1 - 3cm, however, a lot of the hard work has been done for you by the nursery. You've got just as many plants as you need without waste and there's no time consuming pricking out to do, you just simply pop the plugs into a pot of compost and away they go.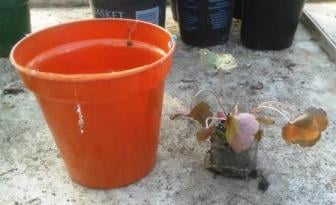 A couple of weeks ago I talked about the shady courtyard I was planting up, well for the area I bought bought 24 Heuchera plug plants for £26.94 inc. VAT and delivery, which works out at just over £1.12 per plant.
As you can see from the photo, when they arrived they were tiny compred to a 10cm / 4" pot. However, as you can see, after just seven weeks we've got a batch of healthy, growing plants which will soon be ready for either potting on into a larger pot or even planting straight out.
For Heuchera plants of this size, you'd probably be looking at £4.99 in the garden centre. So, for the sake of an hours work planting up the plug plants, a bit of compost and a bit of watering, you've saved yourself nearly £100.
Sure they aren't going to give you the instant impact of mature garden centre plants, but for the sake of waiting a couple of months I'd rather save my £100!

Just after I bought the Heucheras, I bought a few hundred more plug plants for Hardy Perennials and bedding plants and paid as little as 15p per plant...but we'll save that for another day.